In efforts to provide the Boerne community with a peace of mind and offer an alternative food supply source, Dog & Pony Grill has begun the Dog & Pony Pantry program, offering certain fresh produce, meats and other food staples for purchase by the item or as a "basket." Those interested in purchasing the food items for sale can call ahead and place their order. Updates on in-stock items will be distributed via the Dog & Pony email list.
"We are coming up with new, creative ways to provide food to the Boerne community," says Brandon Fuller, Operating Partner of Dog & Pony. "We know that right now, sometimes a trip to the grocery store is difficult and if you do go, they might not have certain items in stock that people are looking for."
For the foreseeable future, Dog & Pony will be selling from their supply of frozen vegetables, frozen meats, dairy and bread. Fresh produce will be available in bulk "baskets" for $50, which includes a pre-selected variety of over 40 fruits and vegetables, plus a carton of 30 fresh eggs.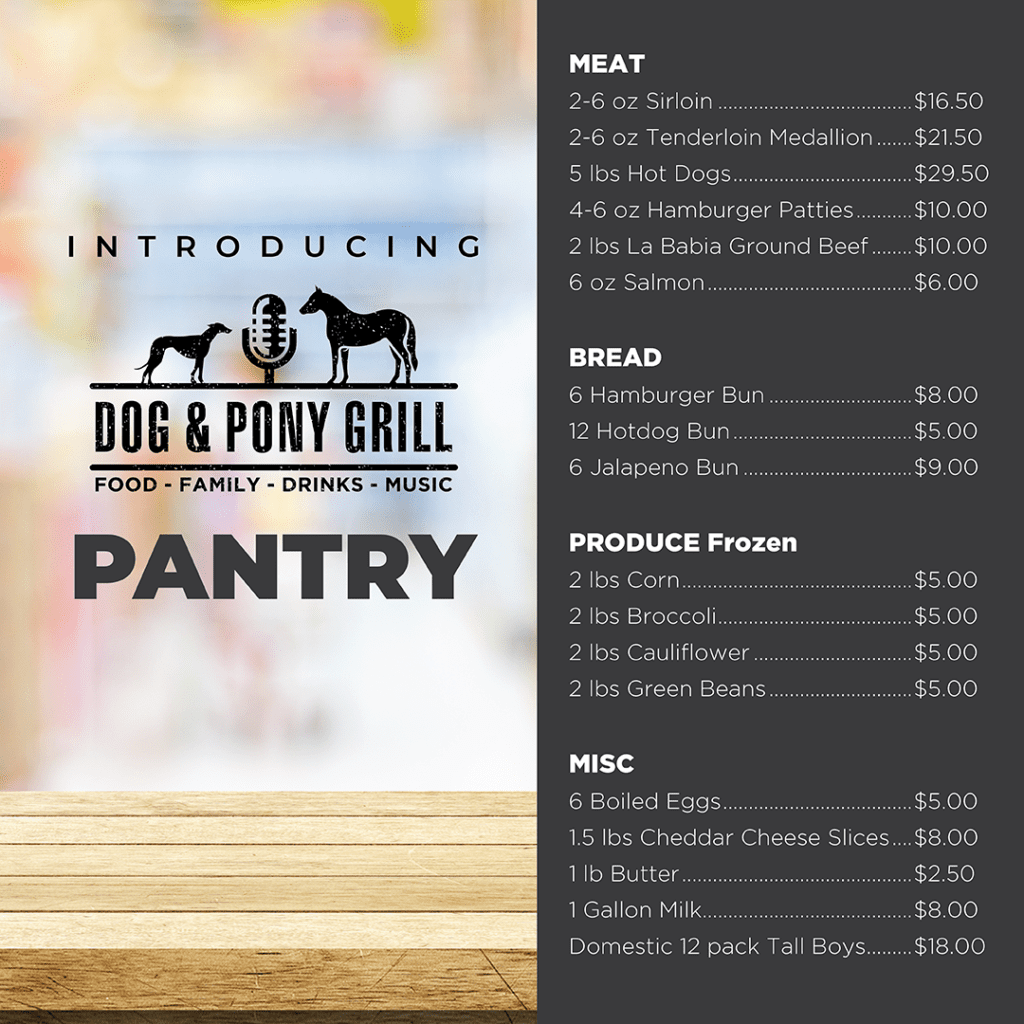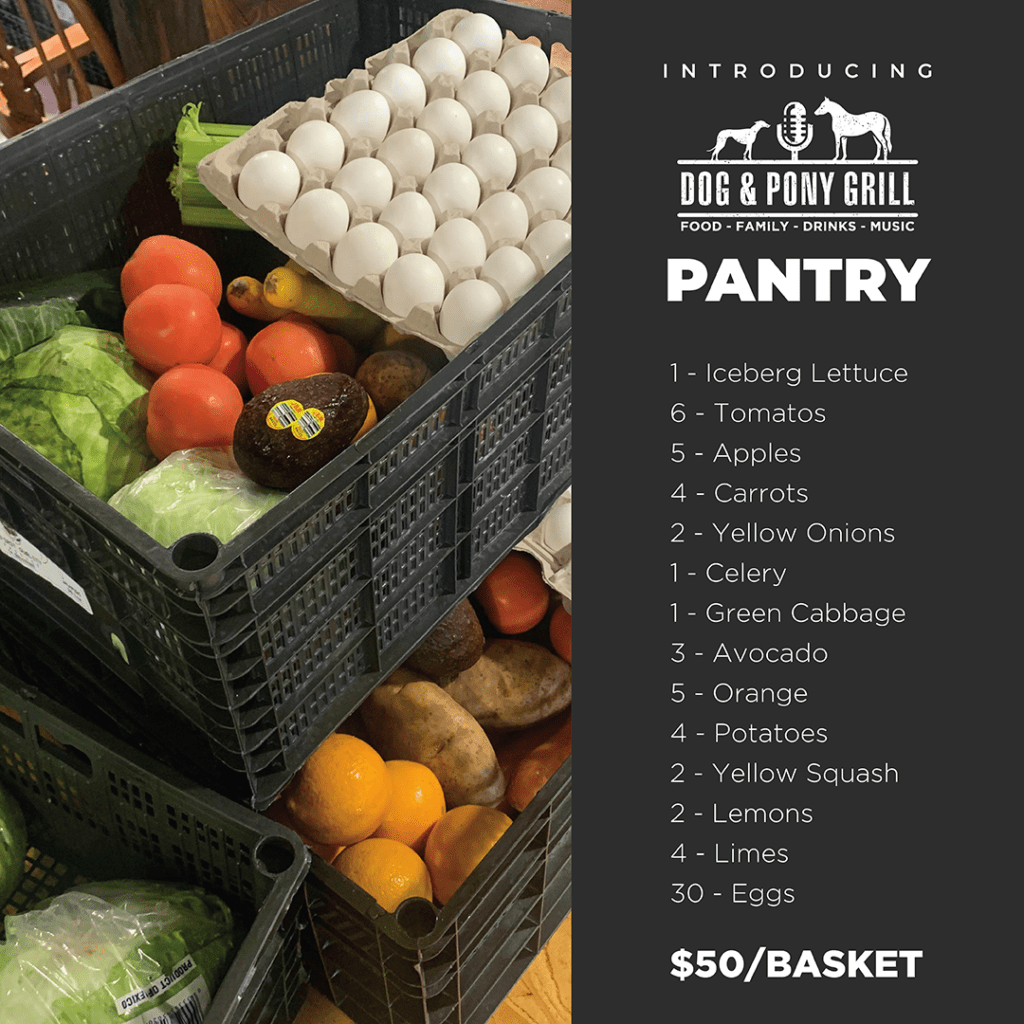 Other recently added takeout options include the Dog & Pony family meal packages. These bulk order family meals make it easy for guests to takeout some Dog & Pony favorites back home. From chicken tenders to wraps, these items are available for a limited time at pre-set family pricing.
Currently, Family Meals, the Dog & Pony Pantry and the seasonal Lent Menu options are only available when you call ahead and place an order for pick-up or Dog & Pony delivery. All other items on the Dog & Pony menu are available to order online for pick-up at the store through Chow Now or for delivery via Doordash. All orders done online via ChowNow must be picked-up at Dog & Pony, while call-ahead orders are eligible for Dog & Pony delivery as well. Designated parking spots will be available for customers that ordered curbside, and once they've arrived for pick-up, they must call again to alert the staff that they are at the restaurant. Payment will be taken at the time of pick-up or online.
The Dog & Pony will deliver within a six-mile radius of the restaurant. All menu items currently on the Dog & Pony website are able to be delivered if you call 830.816.7669 and are ordering within the 6-mile service area. Delivery orders will be available from open – 8 PM daily for a $2 fee that will help our staff cover any costs incurred from their deliveries.
"We plan to continue cooking and providing food for the community as long as we are able to," says Fuller. "Whether it's your favorite burger on our menu, a new family order of tenders and fries, or our new produce baskets, we're here to be as helpful as possible until we can start serving in house again."

Dog & Pony Pantry, as well as curbside, take-out, and delivery is available now. Visit dogandponygrill.com to see the full menu, call 830.816.7669 for delivery or to order take-out/curbside, or order online for takeout/curbside.