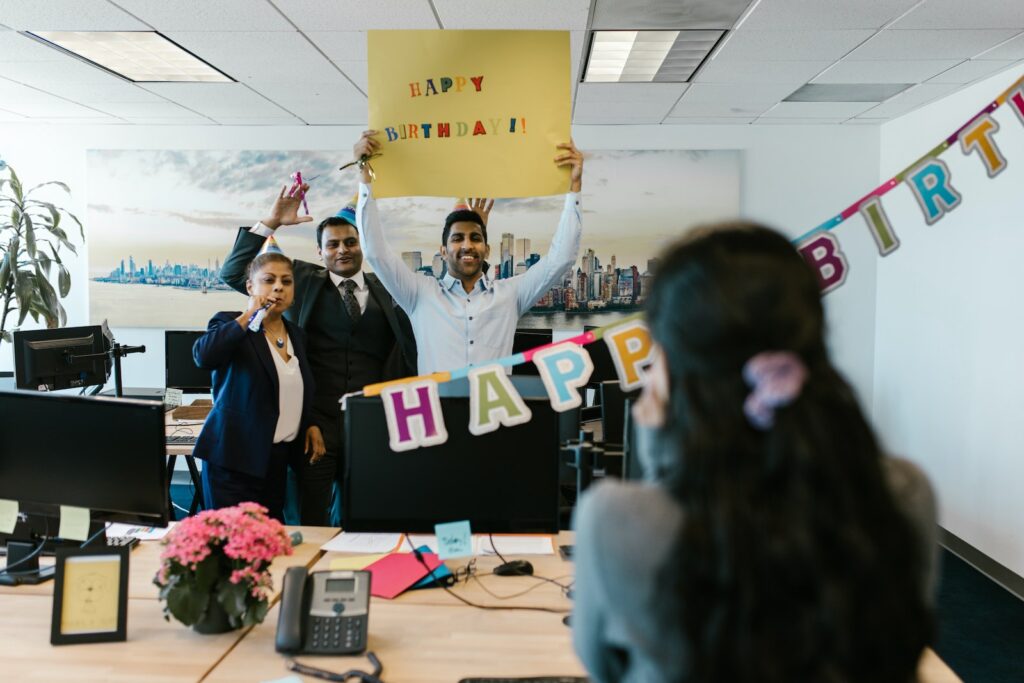 Birthdays come around once a year and are always special occasions, especially in the office. Celebrating birthdays with your co-workers creates an atmosphere of community and is an opportunity to show appreciation for one another. And you don't have to break the bank! Here are some great ideas for inexpensive ways to celebrate office birthdays without spending too much.
Decorate The Desk
A great way to bring cheer and surprise your co-worker is by decorating their desk for their birthday. You can grab some streamers, balloons, confetti and other festive decorations from the dollar store or discount stores like Target or Walmart. Add some of your co-worker's favorite snacks, office supplies or small trinkets as well and you will have created a memorable experience without breaking the bank.
Surprise Treats
Who doesn't love getting surprise treats? One budget friendly way to celebrate a birthday is to bring in cupcakes, donuts, muffins or even an ice cream cake that everyone can enjoy! If you don't want to make something yourself you can always order items from local bakeries which are usually quite affordable and often cost less than $20. If you're feeling extra creative you could also create gift baskets full of goodies like candy bars, chips & dip, tea bags etc., that not only your co-worker but everyone else in the office will appreciate!
Plan A Fun Activity
Sometimes it's nice to get away from work for a bit and do something fun together. There are many different activities you can plan without having to spend too much money – playing board games together during lunchtime or coffee/tea dates at local coffee shops are both excellent ideas. You could even plan something outdoor related like mini golfing or visiting a nearby park for an afternoon barbecue picnic! Get creative – there are lots of options out there for activities that won't cost much but still guarantee plenty of fun!
Birthdays should be celebrated with joy and no matter how tight the budget is there are lots of inexpensive ways to show your co-workers just how valued they are in the office space. Decorating desks, bringing surprise treats and planning fun activities together all help create strong team bonds while celebrating someone special – so get creative and start spreading the birthday cheer!