The small town offers no shortage of big opportunities for unique finds. These women take great care in providing just the right products and shopping experience to all who visit their stores.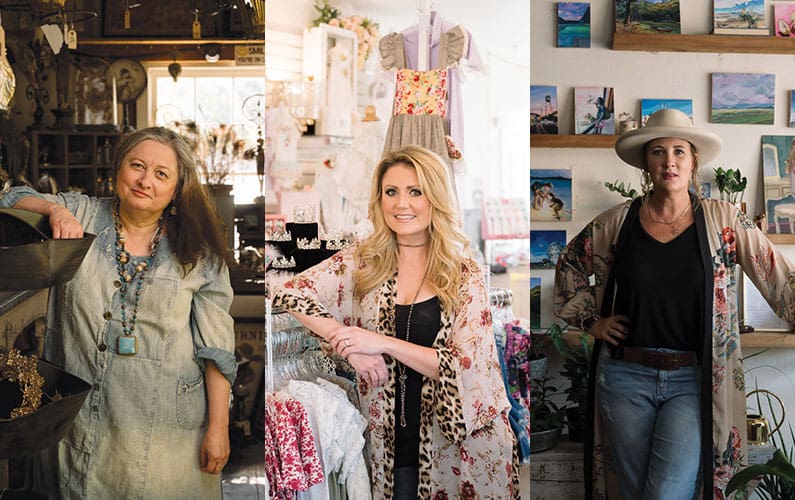 ---
Kat Balmos
Lot 59 and The Local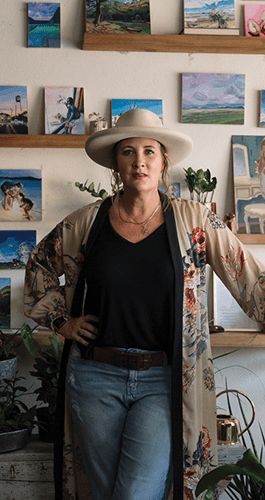 These days everybody craves an experience — what you're doing and where — and shopping is not to be left out among the list of possibilities. Storeowner Kat Balmos understands the need for an ultimate experience while shopping, and that's what she gives customers when they visit her New Braunfels spots, Lot 59 and The Local. Every detail of her stores is reflected with that in mind.
Her lifestyle store Lot 59 represents her hippy, bohemian, and eccentric side mixed with new, on-trend apparel with relevant, vintage pieces. The décor, furniture, and other collective items she offers also highlight her appreciation for nostalgia and all things vintage. The name itself is steeped in history with Lot 59, referring to the lot number her grandfather (five generations ago) chose as one of the original founders of New Braunfels. Even the site of the store is in an old vintage house, and everything in it is handpicked and curated by her. Balmos describes herself as a picker using visits to estate sales or the antique hotspots of Round Top and Warrenton to find just the right pieces she is looking to bring into the store.
The Local, with its more mainstream feel, is a tourist destination in the heart of downtown and showcases Balmos' more sophisticated side with its significant support of local art. And that doesn't refer to just paintings, but also the local artisans' goods she features. It carries a variety of hand-made items including jewelry, local apparel, gift items, and even nursery plants. The thing she has loved the most about premiering The Local is how it allows young artists who make something and use their creativity to put their items in front of people. Being able to provide this platform has been as she puts it, "the real fun." As with Lot 59, The Local introduces a bit of nostalgia to visitors by displaying the iconic star from her grandfather's pharmacy business in the 1800s.
And running two stores might seem like a lot for some, but for Balmos, it's not about the volume but the fact that it is hers. She has taken her experience from a long-standing career in fashion and mixed that with her love of history to keep things new and fresh for that shopping experience unlike any other.
---
Yolie Nash
Nash Bros. Stores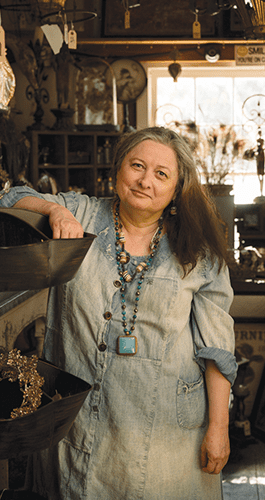 Accepting change can be challenging for anyone, but for Yolie Nash, she knew she was taking a step in the right direction when she left her career in interior design to open her own store. She took a love for shopping and put it toward opening Nash Bros. Stores, where she provides an assortment of vintage-inspired clothing and lots of other merchandise. She explains how she could never turn off work before, but now has fun and gains fulfillment in the unique merchandise she buys for the store and in the way she plays with displays to showcase the clothing she carries. She even recalls the moment she fell in love with the restored house where Nash Bros. resides. It was originally built back in 1854, and once she saw it, she knew she had to have it and go for it. The decision for the store's name also comes from love and reverence for the once-iconic department store, Frost Bros., of her hometown San Antonio. She always loved the store's name, and having her own family of sons left Nash Bros. to fit perfectly.
The store's location in downtown New Braunfels is a prime spot for the frequent out of town visitors the store sees daily, and she is happiest when she sees customers discover their own joy when walking through the store. She has built up a client base for the variety of items she offers for men and women while also providing a selection of home décor items with an antique feel. Even the women's clothing line of Magnolia Pearl exudes a sense of older, romantic clothing, and she is particularly excited about a line of coats she has brought to the store just in time for the fall and winter season. A recent trip to Venice inspired Nash to bring back jewelry with a religious folk art feel, and she also has fun with the products she offers for men including soaps, lotions, and beard oils. She's recently been making efforts to offer more American made products and also provides a wide range of price points to allow customers to buy at least one thing when stopping by.
Every detail, decision, and item she selects is derived from love and devotion for the products and the customers. Nash feels lucky to be allowed to carry the lines that she offers, and she is most grateful to be doing what she loves, "Every time I walk into the store, I fall in love with it again."
---
Brooke Watkins
Lil' Coonies Cottage Children's Boutique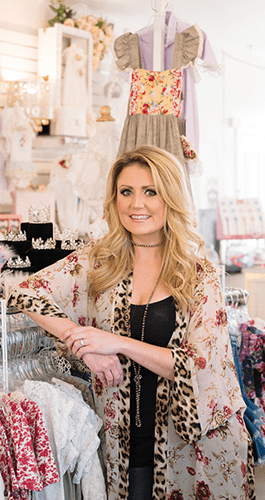 In some instances, the timing has to be just right for things to come together, and for Brooke Watkins that certainly rings true. Her store, Lil' Coonies Cottage Children's Boutique, was born from a combination of the right timing, experience, a love for clothes, and most importantly, a love for people. With the help of her mother, Kim Murphy, Brooke has been running the New Braunfels boutique for three years and enjoying every part of it since the day they began. The shop, located in Gruene Lake Village, is the only spot of its kind in the area, and takes pride in not only being able to provide one-of-kind styles for children but also serving them and their families.
The value of family is what Lil' Coonies Cottage runs on, with even the name playing a nod to family. Watkins shared how it's a reminder of growing up in the country with pet raccoons and a term of endearment for her own children who have grown up in the boutique with her. She wouldn't have it any other way, saying, "The only people you can trust are family," and both mother and daughter credit the other for their joy and success as business owners. Watkins shared she would not be able to run things without her mother, and Murphy explained her daughter's ever-present love for people and desire to help them makes customer service their number one priority. Their goal is to put ease into the shopping experience for both children and families, believing that fashion at a young age should be fun, make them feel good, and prepare them for a "dress for success" attitude. The boutique carries plenty of styles to accomplish that for both boys and girls, ranging in sizes from preemie to size 16 for girls and up to size 12 in boys.
Brook's desire to help and serve extends to the community of New Braunfels as well. Since their first year in business, Watkins and Murphy have always made efforts to donate unsold inventory to groups in need. Last year Lil' Coonies gave excess clothing inventory, valued at over $30,000 retail, to the foster children of True Light Ministries. Watkins and Murphy are excited to partner with Simply Detailed in its Mother-Daughter Fashion Show for the first time.
Watkins is so grateful and honored for the connections she has made with fellow area business owners, the community, and most of all, her customers. She does it because she loves the personal contact that comes with running a store, and the fun she's having along the way is the reward she never imagined she would gain from it all.
By Jennifer O'Neill
Photography by David Teran
This story was originally published in San Antonio Woman Magazine